Angkor is an amazing place. I never get tired of exploring the temples and ruins. Angkor Wat is the main draw of the Angkor complex, and the sunrise is especially spectacular. Several hundred tourists push and shove their way forward to snap just the right shot as the sun rises.
Sunrise at Angkor Wat is famous for the beautiful pinks, reds and purple hues. If you are lucky you get the right cloud cover (not too much and not too little) and the blast of colors over the temple is striking. Fortunately, I was lucky. All three of these photos were taken the same morning over a period of about 30-45 minutes.
When you first arrive at the complex it is pitch black and you can't even see the temple. Then, as the sun rises, an orange glow develops and you start to see the temples and the reflection in the pond.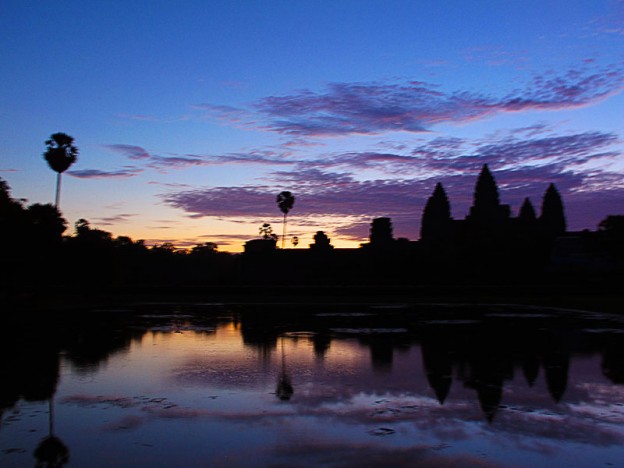 I have no idea where this next photo came from. All of the previous photos look like the one above and the rest look like the last image. This singular photo was in between with a deep red glow over the temple.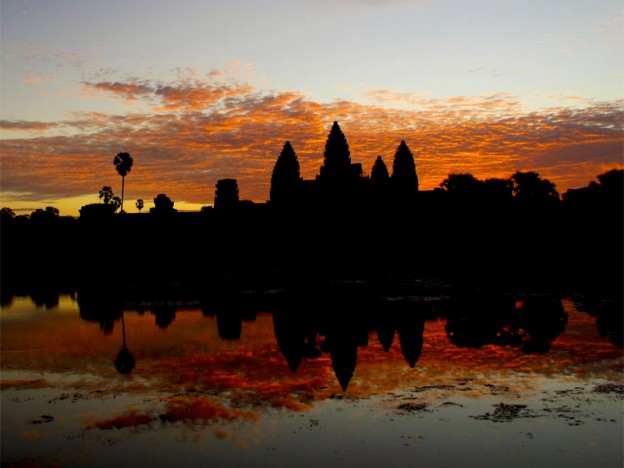 Once the sun is up, a pink glow washes over the temple. It only last few a few minutes, but I was completely amazed by the beauty. The people start to filter away at this point, but I lingered a bit longer.
One thing I must admit to in the photo is that I did edit the photo to remove the tarps on the central stupa and in the front of the wat. Purists might complain, but bright blue tarps tend to distract in a photograph. If you look closely, you will notice a "square" in the previous images to the bottom, right of the main stupa that is missing from this one.