Since I was in Laos to renew my Thai visa, I decided that I might as well visit more of the country than just the capital, Vientiane. There are many destinations that seemed appealing but I couldn't stay very long in Laos, just a couple of weeks, so I chose Luang Prabang because it is supposed to be charming and relaxing.
Well, it is! Luang Prabang is very laid back, just like the rest of Laos. The city is very clean and manicured. It feels a little less like an Asia city and little more like a small resort town. Nonetheless, it was still a really nice place to relax.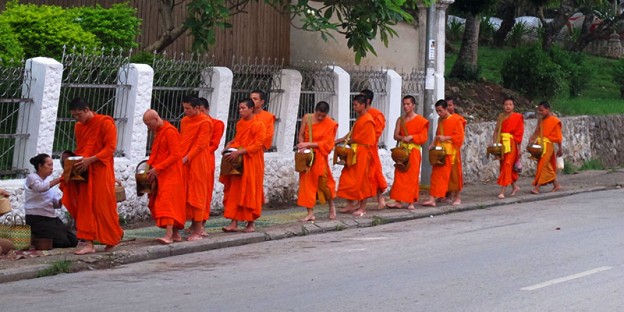 Perhaps the most famous thing Luang Prabang is known for is the procession of the monks that seeks alms every morning. I woke early to see this, though I was a bit late even at 5:45am. Still, I saw several monks walking around to get their food. I also saw plenty of jackasses shoving cameras in their faces and jumping all over the place to get a photo. That rather detracted from the whole experience.
I chose to be respectful and stuck to the opposite side of the street from where the monks walk to collect their alms. That meant my photos weren't as good, but to be honest I was far more interested in watching the monks than taking photos.
After the watching the monks I decided to go for a walk around the city.  Luang Prabang is really small and can be walked in about half an hour. I went to the market and saw some pretty crazy stuff for sell.  At least that still felt like Asia, with various bugs and animals for sell. Finding breakfast reminded me that this is a tourist destination—food is not cheap in Luang Prabang.
Luang Prabang lacks the big draws of other destinations, but there are still some nice things to do.  I took a day tour that included a visit to Buddha caves and Kuang Si Falls, with a short stop at a "whiskey village" that was really just a tourist trap to sell some crazy alcohol.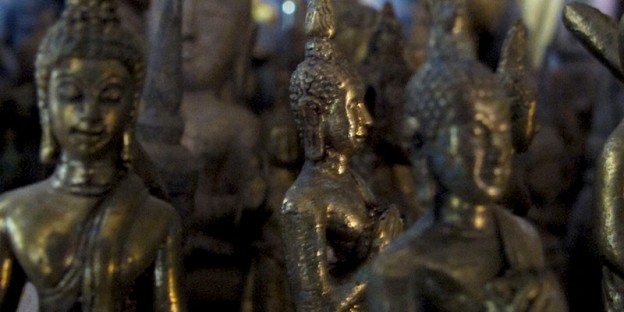 The Buddha caves are interesting, if not life changing. I think I enjoyed the boat ride along the Mekong more than the actual caves. The caves are small and require a but of hiking up steps in the sweltering heat to reach. Then it's pretty much a bunch of small Buddha statues packed into caves.  One cave isn't even lighted so you need a flashlight.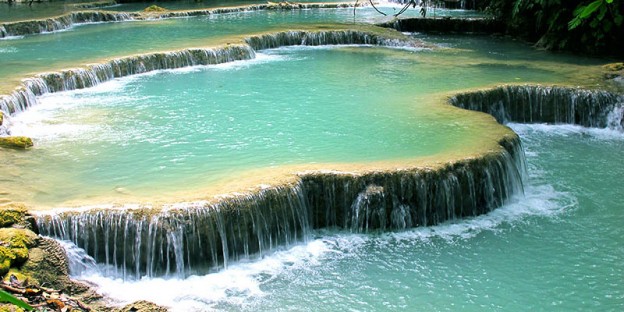 Kuang Si Falls was more interesting, if only because of its natural beauty. I was reminded of Yellowstone and Pamukkale from the calcium travertines. Usually I expect the water to be rather warm in such situations, but in this case it was rather brisk. I was only able to swim for about 10 minutes before I was shivering, even though it was well over 100º F outside. The Kuang Si Falls were touristy and filled with crazy backpacker 20 somethings, though I still enjoyed the beauty. I imagine during the rainy season the Falls are even more spectacular.
One can't deny the charm and the natural beauty of Luang Prabang.  The people are wonderful and nice, just like the rest of Laos. The city is very laid back and has a slow pace. Perhaps not the most interesting sites or the "real Asia," but still a nice place to just relax and get away.