I had some down time before starting a new job so I decided to make use of it and visit Turkey. I know people decry fast travel and think you should take your time to immerse yourself in a culture. Sometimes you don't have the time so you have to do it fast if you want to see a place and I wanted to see Turkey.

One of the first things you will notice in Turkey is that everyone, and I mean everyone, is genuinely nice and welcoming. My trip started in Istanbul. Arriving in the afternoon, I decided to take my time and walk around Sultanahmet, the heart of historic Istanbul where the Hagia Sophia, Blue Mosque, Topkapı Palace, and many other sights are located. Everywhere you go there will be someone ready to sell you a rug, but don't fret. They are all very nice and polite. I did receive some respite from the call of "My friend…" when a woman riding her bike slide on the slippery cobble stones and fell down. Nearly every person in a thirty meter radius ran to her to help (she was embarrassed, but thankfully not hurt). The Turkish people want you to enjoy your visit and do everything they can to help you.
Waking early the next morning to the call to prayer—a beautiful lyrical dance between the hundreds of mosques around my hotel—I smelled something that immediately made me hungry: fresh baked bread. The city retained that smell well into the late hours of morning. Turkey consumes more bread than any other nation in the world. Every meal you order comes with bread regardless of what it is. I am not talking about a little basked of a few pieces of bread. They server nearly a full loaf, if not more, piles high on a plate. I wondered if I ordered bread, if I would receive a side of bread with that.
The only problem I see with getting bread with every meal is that you have to be careful not to fill up on it least you miss out on the excellent food. Kabobs are for sale nearly everywhere, included the doner kebob, but the real feast is testi kabap. Testi kebap is slow cooked in a clay pot in a stone oven in the floor that is cracked open to serve. In goes a wild assortment of meat, vegetables and spices. The medley is stewed for three hours into a wonder that will tingle your taste buds with an explosion of flavor. Of course, Turkish coffee and Turkish delights are a must.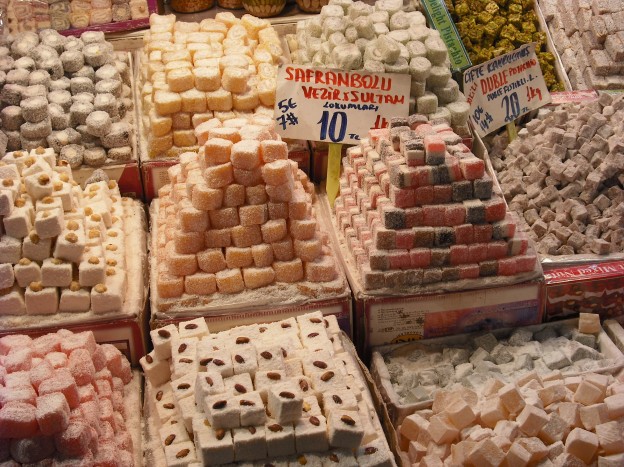 Speaking of Turkish delights, they are several! Ephesus is a truly amazing place to visit with its preserved library and colosseum. A stroll through Ephesus on a nice day is wonderful and full of surprises given how well the site is preserved. Pamukkale used to be one of the most famous sites in Turkey. Unfortunately, the water has dried up and the travertines are not all full anymore. Nonetheless, it is worth a visit and little hike to the top where you are greeted with the sprawling ruins of Hierapolis.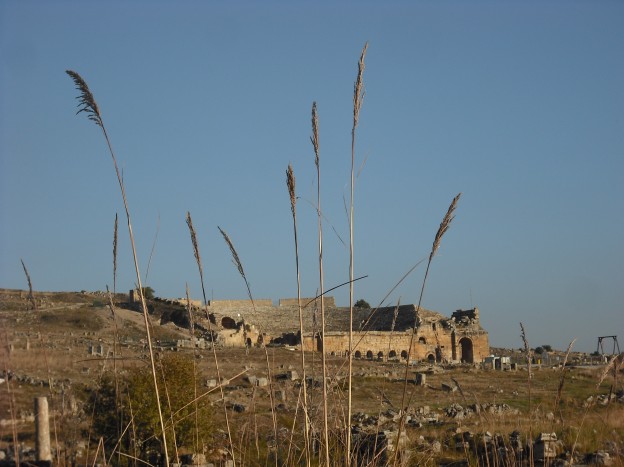 The real delight of Turkey, however, is Cappadocia (Persian for land of beautiful horses). No longer filled with horses, there are fairy chimney everywhere. The natural landscape is so unique and unbelievable it is best seen from the air. A hot air balloon, that is. Floating through the valleys and over the cities is a highlight of the visit to Cappadocia. Every morning the sky is filled with so many balloons that you are surprised their is room for them all. When your ride is over you can wait to hike through those valleys and see all those fairy chimneys. You might even be sleeping in one when you visit!
While I had to eventually go home, I did have one last stop in Istanbul to just walk around an explore some more. One can't get enough to Grand Bazaar and the Spice Bazaar with all exotic ware and foods for sale. And the Blue Mosque is worth two visits if not more. Eventually you have to leave. Waiting for the tram to the airport I hear, "Amerikalı?" and turn to see a smiling gentleman standing next to me. "I love Amerikalı!"  "I love Turkey," I said. We both smiled and he patted my back in satisfaction. "I'll be back," I declared as I hopped on my tram.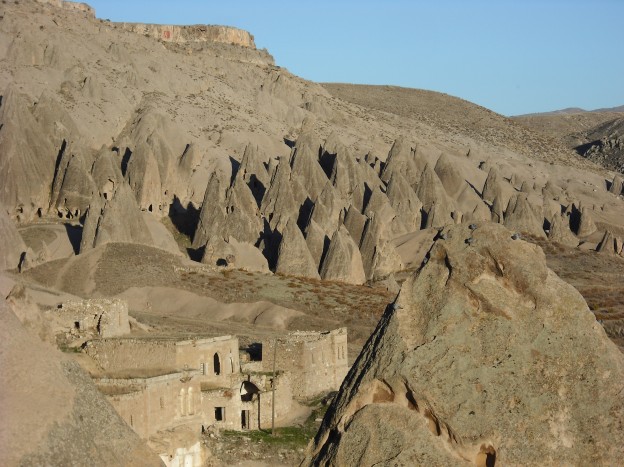 How I did it…
Seattle → Istanbul → Ephesus → Pamukkale → Cappadocia → Seattle
Primary flight: used points (95,320) to book a flight on Delta from Seattle to Istanbul via Paris; return to Seattle from Istanbul via Amsterdam. Cost: $0
Istanbul, 3 nights: stayed in an inexpensive hotel for €27 a night (roughly $37) called Cordial House Hostel & Hotel which is very centrally located. I had my own room with my own bathroom. Breakfast is not included, but can be purchased for €3 (about $5)  Cost: $110
From Airport: Istanbul has an excellent transportation system. The train takes you directly from the airport to Aksaray where you transfer to a tram that takes you to Sultanahmet; total time is about 50 minutes. Cost: $3
Sites: Most sights are around 10-20TL (about $7-13) (Hagia Sophia, Topkapı Palace, Basilica Cistern, etc.) while many are free (Blue Mosque, Grand Bazaar, Spice Bazaar, Hippodrome, etc.). Cost: approx. $45
Flight to Izmir: I chose Onur Air because they offer a free bus to Selcuk, about 45 minutes away from Izmir. Selcuk is right next to Ephesus and is a cute little town worth a visit in its own right. I just walked from the drop off point to my hotel. Cost: $45
Selcuk, 2 nights: I stayed at Artemis Hotel (not to be confused with Jimmy's Place); private room and bathroom.  Breakfast was included and the staff was amazingly nice and helpful. I have to admit, the power was out one morning so there was no hot shower and the next morning I realized that the hot water on demand nob was broken the next morning. Sponge bath was fine, though. Cost: $42
Ephesus: There are buses to Ephesus for 3TL. Ephesus was amazing, and a typical entrance fee of 20TL. For some reason they do not give a map with entrance, so that was additional 5TL. I paid an additional 15TL to visit some ruins within Ephesus that are still being excavated. You can easily walk back to town or catch a cab. I shared a cab with some people I met, so my portion was only 5TL. The Virgin Mary house is nearby, but not within walking distance. Mostly for the devout to pray, I skipped it since there wasn't much to see and I am not religious. Cost: $33
Selcuk sights: Several sights around Selcuk are worth seeing, including the Castle (no entrance), the Basilica of St. John (15TL), Isa Bey Mosque (free), Roman aqueduct (free), Temple of Artemis (which I did not see), and a walk around town. We were lucky since there was the Friday market filling several streets with everything (literally) for sell. That was a blast to walk through. There was some sort of street party the last night, but I managed to sleep through all but a moment of it (I was exhausted, apparently). Cost: $10
Pamukkale: The bus to Pammukale was 3 hours and 23TL. Make sure the bus takes you all the way to Pamukkale (some drop you at Denizili).  I met a nice lady that I spent the day with. The travertines are free to walk up and around, as are the Hierapolis ruins. There is a museum that I skipped, but heard it is an okay visit. Spend a full day exploring. It is worth it, but no need to spend the night as there is not much more. You will be worn out after your day. I had a few beers and a nice mixed grill for dinner for about 20TL and meet a new person (from Seattle no less) that I hung out with for the rest of the trip since our itineraries aligned. Cost: $30
Night bus to Goreme (Cappadocia): The night bus is tough, but fairly comfortable. It lets you get from Pamukkale to Cappadocia without wasting a lot of time traveling since most flight have to go to Istanbul first before Cappadocia. Buy your ticket from a tour company in Pamukkale and it generally includes a ride to Denizli (where the main bus terminal is for the area). Be sure to negotiate the price. I paid 45TL. Cost: $31
Goreme, 3 nights: Goreme has a helpful little tourist information booth at the bus stop. Don't be afraid to use it for information as they are very helpful. They called my hotel to let them know I was coming and gave me directions. It was already booked and they knew it, they just did it as a courtesy. I stayed at Dream Cave Guesthouse, but did not actually stay in a fairy chimney (my friend scored a very nice fairy chimney room for 60TL) private room and bathroom. Breakfast was included and was quite nice. Cost: $52
Goreme: The first day we went straight to the Open Air Museum (20TL) first thing (make sure you see the church on the way back out, it is included in your ticket price) and then spent the rest of the day relaxing and drinking to recoup from our long bus ride.  The next day was some big stuff, at a big cost. We did a hot air balloon ride for one hour—an absolute must. Negotiate the price and buy it in Goreme (€100). Then we did the Green Tour through the Ihlara Valley (the Red Tour includes the Open Air Museum, something you can and should do on your own). This is an amazing trip that includes a visit to an underground city, a hike through the valley, lunch, and a few other stops for 70TL. After all that we had the best meal ever at Dibek. It was expensive, but worth it given the atmosphere and the food, especially the apricot desert.  Cost: $260
Flight to Istanbul: I used Turkish Airlines and flew from Nevsehir because the schedule was the best, leaving at noon and arrive at 1:15pm (though I was delayed by a couple hours). It was as bit more expensive (129TL) but the flight arrived at Ataturk Airport. Sabiha Gokcen Airport has no metro service and is far from town, requiring a costly taxi ride. A bus from Goreme to Nevsehir is 20TL and takes an hour or so. Cost: $90
Last Day/Night, Instanbul: My flight did not leave until the next morning at 5:55am. I reserved a room, but never used it. Instead I spent the afternoon taking a ferry ride to to the Asia side with an older couple I met on the tram (I was heading to Sultanahmet with no agenda and heard them speaking English). They told me about previous visits to Istanbul and their upcoming travel to other parts of Turkey. We had an okay dinner together. I did a little more looking around, had a couple drinks, then went to the airport where I spend 4 hours resting in an open lounge bar. Cost: $30
Total Trip Cost: $781, plus some nominal incidentals (so around $800)

Total Trip Length: 11 days (2 days for primary flights)