Chiang Mai is famous for its food, and with reason—it's absolutely delicious! There are so many great choices, it's hard to decide what to eat every day. Noodles play a large role in the cuisine. Everything from pad thai to tom yum is made with noodles. Of course, rice dishes are also important. Fried rice is very common, as is plain white rice with a meat side. Then there are the vegetables, especially papaya, that are used in everything. Chiang Mai has something for everyone when it comes to food.
When I am not trying something new, I tend to stick to a few easy dishes that I can quickly grab for around 30-60 baht, or about $1-2, at the food stalls around Chiang Mai Gate Market. While just about anything can be had here, I really enjoy the spicy tom yum noodle soup the most. Of course, the fresh fruit smoothies, or the fresh fruit by itself is always great. My weakness is the Thai doughnut that I eat for dessert a little too often.
Pork with Holy Basil (Krapow Moo Kai Dow)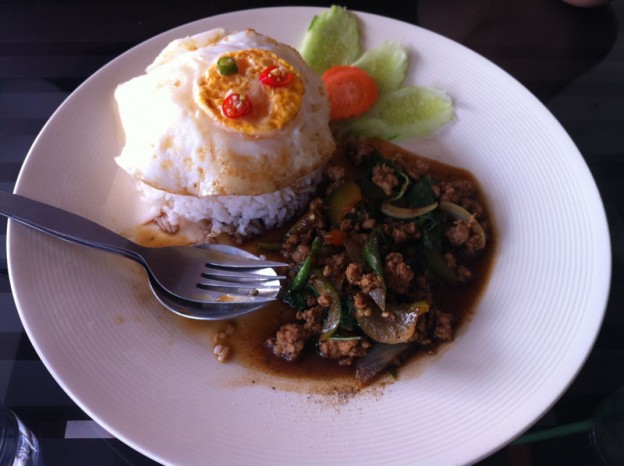 While an American style breakfast is readily available, but usually at twice the price of a Thai dish. The Thai pretty much eat anything for breakfast. There is no typical dish that I can discern. Whatever you might eat for lunch or dinner, you can eat for breakfast. One Thai dish that I love for breakfast is Krapow Moo Kai Dow. This is basically just spicy chopped pork served with plain or fried rice and a fried egg on top. The fried egg makes it feel like breakfast to me (I have to explain I want my friend egg "flipped" as over-easy means absolutely nothing in Thailand).
This dish is spicy. I have had it seriously hot to the point my mouth is on fire. I don't think it comes in mild. In fact, the staff verified the first few times I ordered this dish that I was okay with spicy (and continue to check I'm okay with the level spices every now and then). Despite the heat, or maybe because of it, it tastes great. The peppers and onions are great with the pork and sauce.The real treat is the Thai Holy Basil that is used. It's very flavorful and really brings everything together for a nice breakfast meal.
Fried Noodles with Herbs
Lunch is pretty much whatever you want it to be. Pad thai is an old stand by, of course. There is nothing wrong with pad thai, except that there are so many other choices it doesn't make sense to always get it. One of the dishes I really like is the fried noodles with herbs. I have them add chicken to it, but you don't need to since there are plenty of great vegetables that are mixed in.
Fried doesn't mean the same thing in Thailand as in America. By fried, the Thai are simply referring to a high-heat stir fry that only takes a few moments. This dish has long, fat noodles with herbs and vegetables that make it a great. I almost always get some Thai iced tea to go with it.
Tom Yum Noodle Soup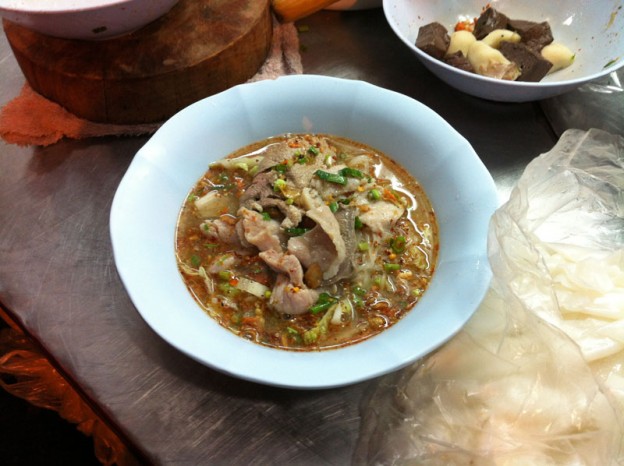 Perhaps one of my favorite foods in Thailand, tom yum noodle soup, is actually a common dish like pad thai. There are several varieties. Usually it tends to include prawns or chicken. Since I am often eating with Thai friends, I get a more typical tom yum soup. The version I get is best described as "parts is parts." There are intestines (not always thoroughly cleaned), stomach (tripe), chicken pieces (I think), and a few other unidentified parts.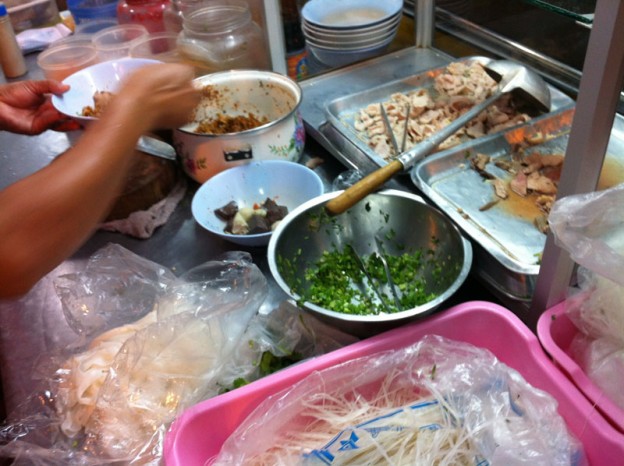 I try not to think about the different pieces of meat that go into the soup because it tastes so good. It's a spicy soup, similar to a hot and sour soup, with some cabbage and a few other vegetables mixed in with vermicelli noodles.
Spicy Cucumber Salad (Yum Tang Gwa)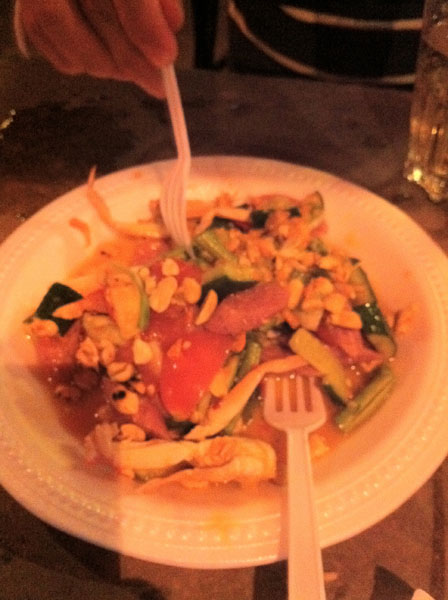 Spicy is an understatement when it comes to cucumber salad. This dish about killed me it was so hot. My Thai friend ordered this and even he thought it was extremely hot and was breaking a sweat after eating it. The Thai never sweat, nor do they think anything is spicy, so I knew this dish was unusually hot. It's not always that hot, but every time I've had it I am usually feeling it for a while. The first time I had this, my lips were burning for over an hour!
This salad is really good for a late night snack or with another dish. The julienned cucumber with chicken, Thai sausage, tomatoes, green beans, onions, coriander, basil, and peanuts are a great combination of flavors. Of course, the level of heat depends on how the person making it feels that day—sometimes they get excited and throw in a lot of chillies!
Fermented Sausage (Sai Krok)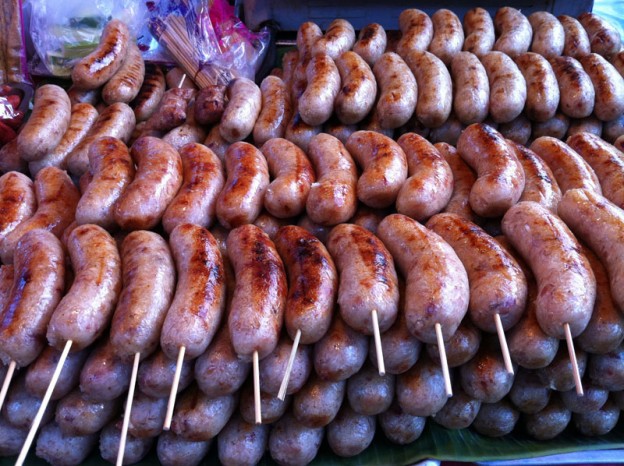 A Northeastern Thailand snack, fermented sausages are available pretty much everywhere. They're sold at food carts near temples, at markets and along the sidewalk where more than three people might be walking. They are simply sticky rice with some ginger, salt and pepper placed inside of a pork casing that is fermented (sits around) for one to three days before being grilled for your taste buds' pleasure. They are served with chillies, lime and cabbage and are absolutely delicious with a slight sour taste.
Fresh Fruit and Thai Doughnuts (Sala Pao and Pa Tong Ko)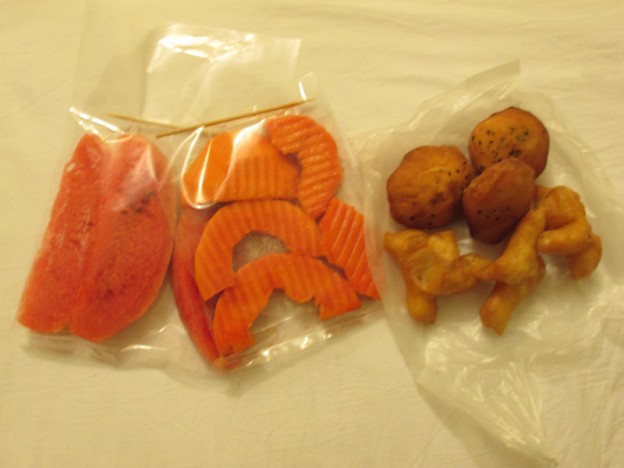 Fresh fruit and Thai doughnuts are the best for an late night snack or for dessert. They are inexpensive and delicious. They round out the perfect day of dishes in Thailand.