One of the most exciting trips I did was visiting Komodo and Rinca islands in Indonesia. They are famous, of course, for the Komodo dragons that live on them.These giant monitor lizards roam around the islands and tend to hang out near the ranger stations (where they smell the food that is cooking). A visit to Komodo and Rinca (pronounced reen-cha) is something everyone should do when they visit Indonesia.
Komodo Dragons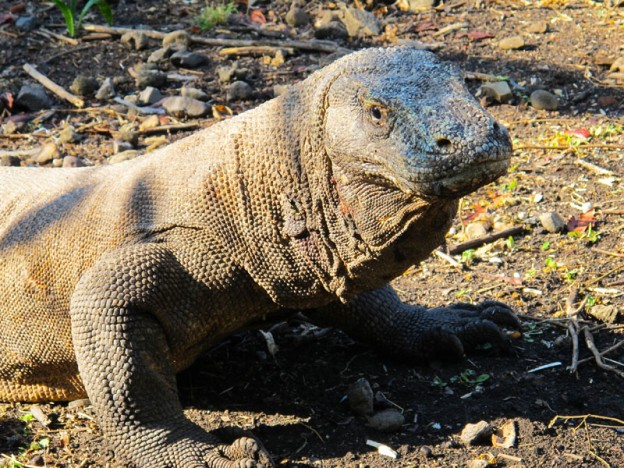 The Komodo dragon is actually a monitor lizard that is big, very big. They can get up to 10 feet long and weigh 150 pounds! Monitor lizards are quit common throughout the Pacific Islands, but they are generally much smaller because of competition with other carnivores. The largest I've seen besides the Komodo dragon was in the Palawan in the Philippines—they were up to three feet long.
From the fossil record, we know that large monitor lizards have existed in other places in the Pacific and Australia, but have since gone extinct except on Komodo and Rinca. The reason there are none of the large Komodo dragons on neighboring islands, such as Flores which is a very short distance away, is that the dragons are unable to cross the fast-flowing channel. They can swim, they just get swept away and presumably drown. Since other islands are too far for them to swim or the natural competition has shrunk them on islands they've made it to, they are now only found on Komodo and Rinca islands (though the monitors on Flores and other islands are genetically identical to those on Komodo and Rinca).
Komodo dragons are an endangered species, and even the Dutch recognized this as far back as 1915 when they started protecting the dragons. There are only 4000-5000 dragons in the wild (the exact number is hard to determine since they are a rather reclusive animal). They are slow to reproduce and practice cannibalism. Baby dragons live in trees for the first several years to protect themselves, though they are pretty much defenseless and many are eaten as prey.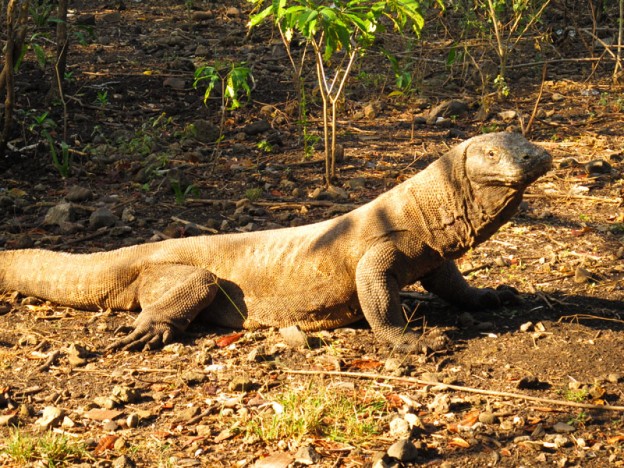 Adult Komodo dragons can move rather fast and are able to use their strong tails to knock animals down, but the dragons prefer to eat carrion or attack stealthily. When they do attack, their prey do not die immediately. Dragons will often follow their prey for up to a month before it final succumbs to their bite. It contains venom that lowers blood pressure and causes muscle paralysis, but it is loaded with bacteria and this is what eventually kills their prey.
More Than Dragons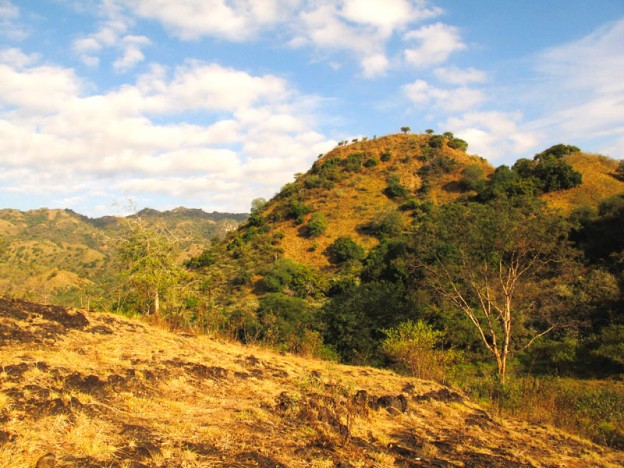 There is actually more to see on Komodo and Rinca islands than just dragons. They have very unique and, despite being close to each other, very distinct eco-systems. Komodo has really interesting fauna on it. The trees look like they are from prehistoric times, being really tall with no branches until the very top. Rinca, on the other hand, is very dry with scattered palm trees covering much of the island. Both islands are volcanic in nature with rather rugged landscapes.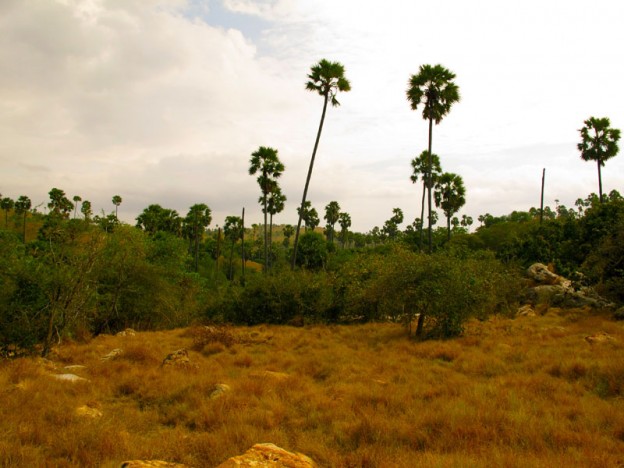 The surrounding islands are scattered with wonderful little beaches. There is great snorkeling and diving here as many of these coral stands are marine reserves that are protected. There is even a pink beach called, of course, Pink Beach. With its pink sand, it is one of only seven in the world. The sand appears pink because of the mixture of white and red coral sand that make up the beach.
Visiting Komodo & Rinca Islands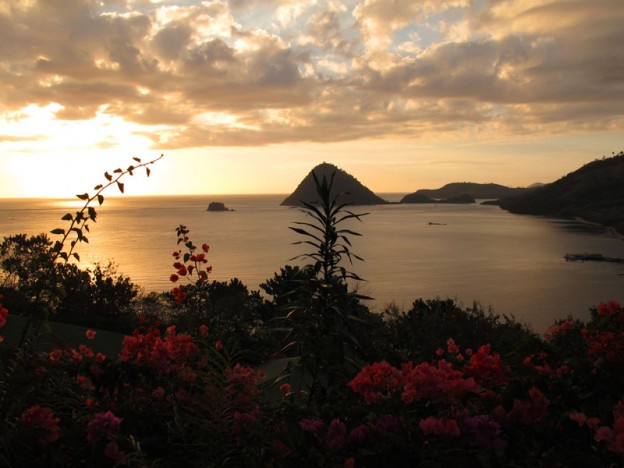 Komodo and Rinca are part of Komodo National Park, a World Heritage Site that is rather isolated. You get there via Labuanbajo in Flores. Regular flights leave for Labuanbajo throughout Indonesia, including from Bali. In Labuanbajo you can charter a boat for three to four days, or longer if you want to do dive trips. Prices are rather economical and you can customize the trip to include hiking, diving, snorkeling, beach visits, and other activities.
I was focused on seeing the dragons. Usually you visit Rinca island first, which takes many hours to get to from Flores. All visits to the park on Rinca and Komodo require a ranger to accompany you (included in your park fee), which adds a bit of comfort as well as information. While the rangers will tell you that there is never a guarantee you will see the dragons, you are more likely to see them on Rinca. When I visited, dragons hadn't been seen for over a week, but when I arrived on Rinca I saw them all over the island. There are more dragons on Rinca because they have been less disturbed.
After hiking around Rinca for half a day and seeing the dragons, you can visit some of the nice coral stands for snorkeling and diving. I went snorkeling and also hung out the beaches for a while. Though I did double-check that I wasn't on one of the islands with dragons. The last thing I wanted was a dragon charging me while I was lying on the beach!
The next day you visit Komodo island. The dragons are much bigger than on Rinca, but there are fewer of them. Komodo also has some nice hiking that is a bit easier than Rinca and with some pretty cool flora and fauna. I did a four-hour hike where a saw a lot of animals, including the dragons. Though we were lucky, some massive dragons were hanging out near the park entrance. After that, it was more snorkeling and beach time on Pink beach.