Despite being in Southeast Asia several times, and basically living here for over six months, I never made it to Laos. I visited all of the surrounding countries, yet always failed to get inland to Laos. I finally made it to Laos.
I needed to renew my visa for Thailand. I get a 30 day visa waiver on entry, but wanted to be able to stay longer, so I decided to get an actual Thai visa in Vientiane. The process easy, but because of a holiday I ended up staying in Vientiane for four days waiting for my visa.
Vientiane is a cute town, and rather small. I visiting during the height of the dry season so the weather was unbelievable hot (usually over 100° F every day). People in Laos are pretty laid back to begin with, but when the temperature gets that hot things slow down to a crawl. Add the holiday and Vientiane was all but a ghost town while I was there.
Nonetheless, I rather enjoyed the city. There are a few sites to visit, including a golden pagoda which seems to be standard throughout Southeast Asia. There is even an Arc de Triomphe type thing that was built with money the USA gave to Laos to build an airport runway with. Hum, airport runway or giant cement arch? Clearly the need to be reminded of their colonial past was more important than an airport runway.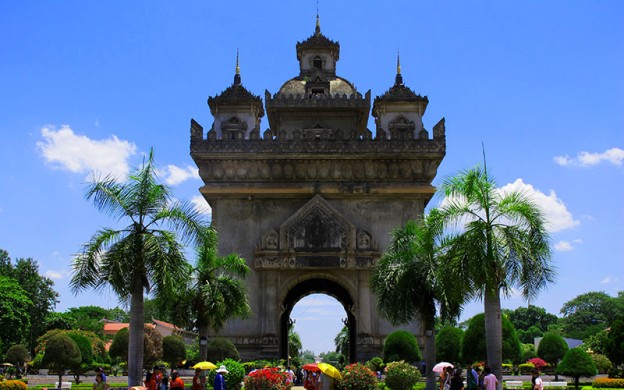 Patuxai (the arch) is somewhat pretty, from a distance. Up close it's just a giant cement arch. On the way I stopped to take a look at an old chedi. To get to it you have to walk along a small road that goes in between the United States Embassy. That was kind of fun to walk the gauntlet of US paranoia to see the small ruins of a chedi. I asked all the guards if I could walk through to see That Dam, and jokingly added "I'm an American," with a smile. He just looked at me, no smile, and said, "It's a public road." Jackass. Americans are always out to improve our image in the world (sarcasm).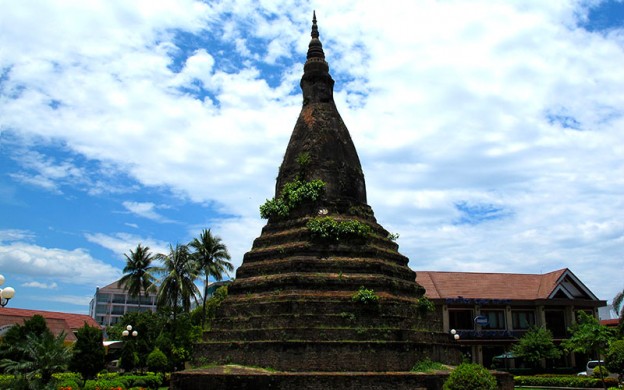 There are several pagodas and Buddhist temples around the city (all which close for an hour at noon), and even a Buddha Park miles outside the city with several large Buddha statues made from cement just outside the city, though I didn't make it there. A nice park lines the Mekong River with a bike path, walkways, and space for the night market. Most of Vientiane can be seen in a day (though Pha That Luang stupa is best seen at dusk in my opinion).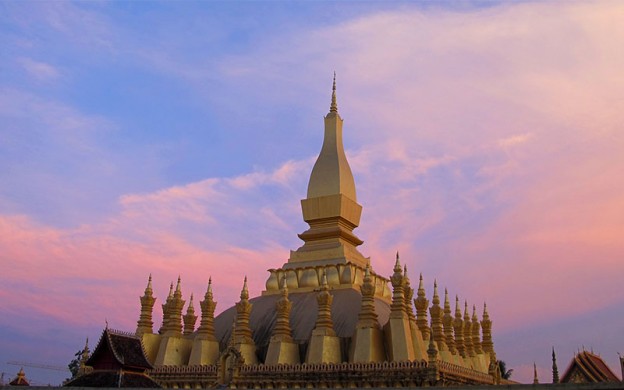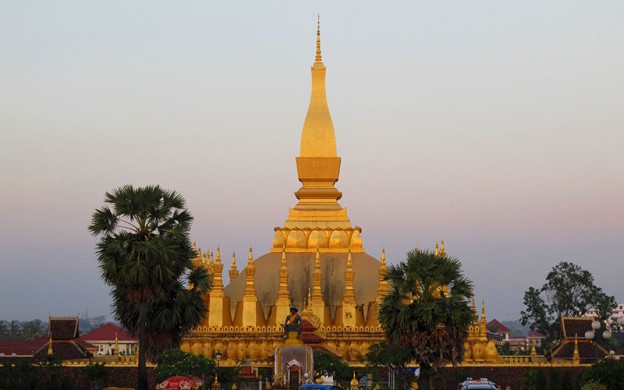 In all of my wisdom, I decided to walk around Vientiane to take in the sights. The city is relatively compact and can easily be managed on foot. That is, when the sun is not roasting your alive. I managed to get fairly lobster red pretty fast and had most of the people worried about ruining my perfect white skin. Southeast Asians are very concerned about anyone getting too dark as they have a preference for fair skin. It's not that they think white people are special, its just that fair skin is a sign of leisure and therefore beauty here just a tan is the same in the USA.
When I finally made it to a cafe to escape the heat, I was drenched in sweat. The staff seemed a bit worried and kept giving me glasses of water. Vientiane has a French feel to it with lots of little cafes and wonderful coffee. I had the best coffee and sandwich in years in Vientiane—it was truly that good. I was well fortified after my little cafe stop to make it back out into the heat, trying to get back to my hotel. When I finally made it, I saw how red I was and understood why the staff at the cafe was so concerned for me!
Back in Bangkok my skin was peeling and that managed to get me chastised by the Thai guy I'm seeing. Oh well. I still was able to see the sights of Vientiane and avoid getting raped by the tuk tuk drivers. No matter where I go, it's always the same. Taxi drivers, tuk tuk drivers, or whatever, are always trying to screw tourists. In Vientiane they wanted to charge me 40,000 kip to go to the Thai Embassy (a Laotian would pay 2,000 kip and foreigners should expect 10-15,000 kip). When I balked, he pulled out a nice laminated price list.
Most tourists would think, oh, it's written down so therefore it must be true. Not really. They pull out this list no matter where you are in the city. Your location in relation to your destination doesn't matter. And it's nearly impossible to negotiate with them when there are several drivers around because they will lose face if they take a lower price in front of other drivers.
Its pretty easy to just walk away from the drivers that are trying to screw you and find one that is hanging out by himself or only with a friend or two. Then you can negotiate the price down. Laos is no different than the rest of Southeast Asia though, and perhaps even less inclined negotiate. Not only is Laos seriously laid back, but it's also communist, so there seems to be little interest in accepting a lower price.
Eventually someone will take the offer at a reasonable rate, but when it's ridiculously hot out and you are comparing the price to your home currency (40,000 kip is $5), you just tell yourself, "Fuck it, I'm hot and I pay the damn money to get to my air-conditioned hotel room!" Fortunately, the people of Laos are really nice and make you enjoy take it up the ass without any lube. At least they say, "Thanks!" when they're done.
Joking aside, the people of Laos are truly very nice. They are quick to smile and very willing to help people out. Excepting taxis and tuk tuks, no one seems very interested in cheating you. Laotians are just genuine and friendly. Vientiane may be the capital, but it feels more like a small provincial town that is nice to wander around and enjoy a cup of coffee.