I take a lot of photos when I travel. Sometimes I spend some time to make sure they turn out great, and other times I just snap the shot and hope for the best. I visited quite a few countries in 2012. I think I managed to get a lot of great photos, though the following five photos happen to be my favorite photos of 2012.
Long-Tail Boats, Koh Phi Phi, Thailand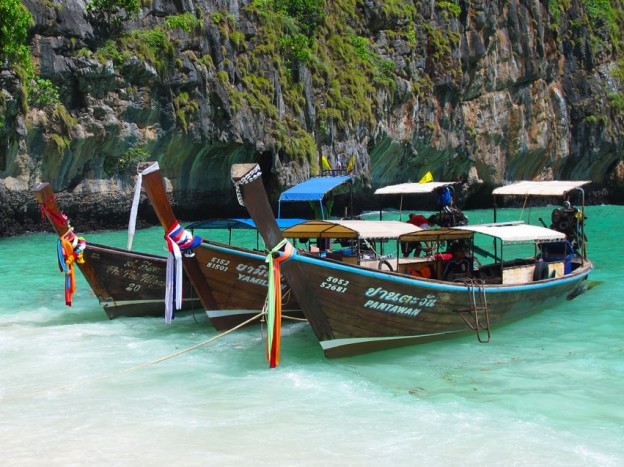 I took this photo at Koh Phi Phi Ley. There were hundreds of people mulling around, and many boats coming and going (Koh Phi Phi Ley is a very popular tourist destination and is where the Beach was filmed). I was about to give up on every getting an image of long-tail boats without people climbing on or off, other boats in the way, the boats floating every which way, when finally everything seemed to come together and I got this classic shot.
Fisherman, Lake Inle, Burma (Myanmar)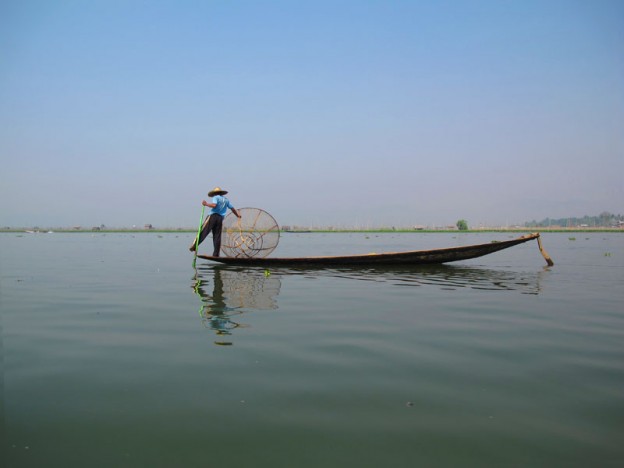 The fishermen on Lake Inle have a unique style of paddling with one leg. Nowhere else is this done but here, and it's incredible to watch as they paddle and go about their work. Getting a good photo is very difficult. My boat is moving (rather fast) and bobbing up and down. Their boat is moving and they are working (as well as paddling). The lake is crowded, but finding the right moment when a fisherman is paddling, no other boats are around, the lighting is right, and the movement isn't too crazy is almost impossible. I took hundreds of shots, but this is the only one to turn out—and I did no post production to it. Amazing.
Taj Mahal, Agra, India
I have a classic shot of the Taj Mahal that I was very proud to have captured given the number of people trying to get the exact same shot as you enter the grounds. However, this is my favorite photo of all of the photos I took of the Taj. I chose to make it black and white to make it feel a bit older and add a sense of mystery to the photo. I especially like that there are only a few people in the shot, though they provide a sense of scale to the photo.
Long-Tail Boat, Koh Lipe, Thailand
There were several long-tail boats tied up and empty along the beach at sunset on Koh Lipe. Most of them were work boats used to ferry supplies to Koh Lipe, but this was one was beautiful. The tide was out and the water shallow, so I spent some time in water up to my stomach getting a good shot of the colorful boat and sunset.
Palolem Beach, Goa, India
This is perhaps my most favorite photo ever. It's not perfectly composed (there is a chopped off lef to the right and the horizon is crooked), but I love it. The photo is a bit grainy, making it look like it was taken with an older camera, and the colors are muted, giving it a sense of age. Perhaps the best thing about it, though, is that it captures Goa perfectly. Where else would you find a cow relaxing on the beach while people sunbath?