I just returned from my whirlwind tour of Sri Lanka. I was there for nine days, though really only seven full days. I started in Colombo, a rather nondescript city, took a train to Kandy, private car to Tissamaharama for a safari around Yala National Park, continue to Galle, then finished back in a suburb of Colombo called Negombo. While Sri Lanka is not as earth shattering as many people led me to believe, it was beautiful and I had a great time. While there were some negatives, on the whole the trip was positive.
The first thing to know is that Sri Lanka is all about the money. There are few other places I've visited (and I've visited quite a few) that focus so obviously on the financial transaction. Everyone seems to expect a tip, from the person telling you where the bathroom is to the taxi driver just dropping you down the street. Nearly every experience was tempered by someone asking for a tip. I spent most of my time worrying about whether to tip, how much to tip, and if the person would get mad that I didn't tip appropriately (which happened a few times). I even had a random person on the side of the road tell me I could not photograph "his beach" without paying a tip. He kept swinging a stick in front of my camera to prevent me from taking the photo. When I refused to pay it got a little nasty.
Everything had a fee associated with it. I am fine paying admission and entrance fees for most things because it helps with maintaining and conserving the parks, museums, and so on.The are substantial price differences for foreigners than locals, which again is perfectly fine and the way it should be in my mind. What was surprising, though, were the fees to visit Buddhist temples. That seemed a bit out of character for Buddhism and places of worship in general. I know some religious places charge, but usually it is due to an attached museum or something like that. A typical church, mosque, synagogue, or temple doesn't usually charge. Not so in Sri Lanka. As a tourist, you pay (even if you are Buddhist as a Chinese couple discovered to their dismay).
Prices are a bit high for rooms and food in tourist places. I learned from my driver what he pays for things and it's a shocking difference. I expect some difference, of course, but the difference in Sri Lanka is huge. There is also a tendency to just let the foreigner pay for things. For example, I probably wouldn't mind buying my driver a meal, but when a tuk tuk driver taking me to some temples for the afternoon follows me in the convenience store and grabs water that I have to pay for, it is a little unsettling. It was just expected without question or discussion. My driver (and his friend!!! who was along to keep him company on the long drive back) did the same thing on my drive to Tissamaharama when I stopped for lunch. It was really an odd experience to have this happen repeatedly. Other people I met said they experienced the same thing.
Service charges are added to many things, like rooms and meals. Tax is also added. Of course, the staff get none of this—management keeps it all—so you have to make sure that tips are put in the hands of the staff directly. What this means is that you are paying 10% for a service charge, 10% for taxes, and then another 10% for tips. This isn't always done, but there is usually some random combination of these which adds to the price of everything. Its inconsistency makes it a bit annoying.
I know someone will say this is how they make money, blah blah blah. Maybe it is. As an American I'm happy to tip when it makes sense. Restaurants, good service when touring, and other things. Just being nice doesn't cut it. Nor does over charging me for a service then wanting even more at the end. Needless to say, the fixation on money did not go over well with me. In negotiations the response was usually that the price is cheap "for you" or they would try to convince my I was getting a good deal. I can suck it up and accept the prices, but the inconsistency, and the nickle and dimming just left a sour taste in my mouth.
Now, I don't want to give the wrong picture. Many tourists will still think things are inexpensive and some things are. They won't think twice about the prices because they are on vacation. For me, it just seemed a bit too much. In a country where the average pay is 1000 rupees a day (about $7.50 a day, or $150-200 a month) I get why some people tack on charges or try to get a little extra. Most of the money you pay, though, goes to owners, not the people actually doing the work. In fact, the commissions and kickbacks and deals and agreements and arrangements are so complex that it boggles the mind. Everyone is involved. When someone is considering a counter offer, they are mostly trying to figure out what they will make because so many people are involved. So, in the end you just deal with it and try to make sure that the people who do the work get their fair share.
So, with that long bitch out of the way, it is worth stating that Sri Lanka is a truly wonderful place to visit. The people are really, really nice. Most are nice without wanting anything in return. It was sad I always had to brace myself for the inevitable money request, but it was nice when the person just smiled and wished me a good day. Sri Lankans seem to be genuinely nice, similar to Thais. The people are wonderful and smile easily. When away from tourist places (which I was a few times) the people are ridiculously nice. Off the tourist trail I could just interact with people as human beings and not a financial transaction. People would smile at me as I walked around, would say hello, and they were very helpful. If I went to local restaurants, there was no expectation of a tip. I gave one anyway, which was received with a big smile and hearty thanks. I can easily say that Sri Lankans are some of the nicest people I have met while traveling.
Sri Lanka itself is also a very beautiful country. Perhaps not as fantastic as India (in the sense of scale); still, the mix of cultures and religions and architecture will blow your mind, especially considering the size of the island of Lanka itself (it is rather small). You get an unbelievable mix of beaches and culture and history in one small place. The jungles are lush, the animals are amazing, and the even the rice fields and tea plantations are quite impressive. A week wasn't even close to enough time to visit. I could have easily spent a month.
Sadly, despite the beauty Sri Lanka is very dirty and polluted. Vehicles belch out black plumes of smoke. The air was pretty bad in most places and since air conditioning isn't very common, I was often breathing this shit into my lungs night and day. It doesn't help that they have a fascination for burning things (why do developing nations always want to burn stuff?). I am still trying to calm down my inflamed sinuses and throat from the pollution. There is also trash everywhere. It is common for people to just throw trash on the ground or out the window of their cars. Beaches, national parks, roadsides, and pretty much everywhere has a nice layer of trash around. While not atypical for Asia, it is still disappointing.
I would say that Sri Lanka is a mix of India and SE Asia. The people are wonderful and the sights are amazing, just like India and SE Asia. And just like them, there is a lot of pollution and trash. The desire for tips and the huge disparities in costs is a bit unusual, but I got over it pretty easily and just enjoyed the country.
Getting Around
Sri Lanka is not very developed, so transportation is not as easy or convenient as it could be. They are building nicer and bigger highways, and they already have one from the airport to Colombo (it is worth paying the 300Rs to have your taxi driver use it). When you arrive at the airport, go to the official taxi desk (just ask information to point it out). They are about $10 cheaper than the others. The price is fixed. I paid 2,400Rs, or about $19, from the airport to the heart of Colombo (plus another 300Rs for the toll).
Traveling around the country using a private car is common. I found it to be rather expensive, though it is faster and more comfortable than using local transport. Getting around on local transport is not all that convenient or direct (it takes several trains and buses to go from Kandy to Tissamaharama, for example). If you have the time though, it is much more interesting and significantly cheaper to use local transport. Maybe just not more comfortable.
My driver from Kandy to Tissamaharama, where Yala National Park is, cost 15,500Rs, which is about $120. I only got a discounted price because the van on my tour to Sigiriya broke down and I ended up going with four different drivers to get back to my hotel. Otherwise, it would have been more. Of course, if you are with a group, then hiring a car and driver makes more sense. By yourself it is really costly. Oh, and don't believe Google Maps—it takes much longer than you imagine to get somewhere in Sri Lanka. Traffic is terrible, roads are not very good, and the driving is a cluster fuck of breaking and swerving to avoid accidents.
Trains are cheap, but they are shitty. The Expo Rail train from Colombo to Kandy and the surrounding area is worth the extra price (instead of $2 for a ticket, you pay $12). The ride is still a little uncomfortable because the rails are not so great, but trust me when I say it beats the regular trains hands down. The regular trains are oversold and packed with people who push and shove and squeeze in next to you (this is an odd behavior I never fully understood or figured out). On my train ride from Galle to Colombo, I was forced to stand the entire way packed with people (very common). There is really no reason to pay for second class instead of third class. They never checked the tickets and the cars are so packed it would be impossible for them to determine who is supposed to be in which class—it is just a free for all cluster. Nonetheless, the trains are fun in their own way and a lot cheaper. Expect them to be slow.
What I Saw
I will be writing more detail about these locations in future posts, but here are the basics of my itinerary. I arrived in Colombo late at night the first day. The next day I spent exploring the city, There is a not a lot to see, though there are some interesting Buddhist temples and the Galle Green park is nice. I think I would probably spend my time elsewhere if possible. There is really no reason to spend time in Colombo. Nonetheless, I spent a day there. Tuk tuks around town have meters, though they will take a longer route. If you negotiate a little, you can pay 300Rs for most trips around town and they will be faster than a metered tuk tuk that charges 250Rs but takes the long way.
The next morning I took a train to Kandy. I used the Expo Rail, a private train car. It is nicer and a bit faster than the other trains, though it costs more. It is still a rough ride because the rails are not so great. Nonetheless, it is worth it. There are no metered tuk tuks in Kandy so you have to haggle. Kandy is nice city. Unfortunately, I did not see the prime attraction—the Temple of the Tooth—and I was right next to it. It costs about 1200Rs I believe and while it sounded nice, it also sounded touristy. I regret missing it, but it allowed me to see the other sights around Kandy.
The tour around Kandy is 2,500Rs to visit three temples, some gardens, and a tea plantation. I really enjoyed the three temples around Kandy, even though visitors are not very common (I don't know why). The Herbal Garden can be skipped, trust me. The tea plantation is interesting, but once you have seen one you have seen them all. The one around Kandy has women mercilessly begging for money by showing you how they pick the tea. If you give them some, as I did, then several more will show up and they start to get very aggressive (my taxi driver had to help fend them off of me—seriously). The Botanical Gardens are nice, though nothing special. It costs 1,100Rs. Personally, the most enjoyable part of the afternoon tour was seeing the three different temples. Each costs about 300Rs and of course there are "guides" that will point at the temple and then ask for money (the "guide" is often the man taking the entrance fee, but you do get an official receipt).
I did a day trip from Kandy to Sigiriya (the big rock), Dambulla (rock temple), and Polonnaruwa (ancient city ruins). This was a very long day, not only because it starts at 5am and ends around 8 or 9pm, but because the van I had broke down. Even without that, I would suggest doing this in two days unless you have only one. It is doable in one, but you are seriously worn out at the end of the day. There is a lot of walking and steps involved. I thought I was going to die when I finally got back to my hotel. Nonetheless, the sights are worth visiting.
I left Kandy for Tissamaharama to do a safari at Yala National Park. I had a car and driver, so I was able to make stops along the way. Many people visit Nuwara Eliya and Ella, especially for Adam's Peak. I didn't do Adam's Peak (it just sounded horrifyingly difficult to climb), but the drive through the area is quite beautiful. There are several tea plantations and cute little cities. Ella is a hippie paradise, though the town is literally just 100 meters long. The scenery is really beautiful and I took a lot of photos along the way.
Tissamaharama is a nice town surrounded by rice paddies (the main photo of this post is from Tissamaharama, walking around near my guesthouse). I've seen many rice paddies before but these were quite stunning. Of course, the main reason to visit Tissamaharama is to go to Yala National Park. Yala is famous for leopards, elephants, peacocks, and a variety of other animals and birds. I saw everything except leopards. That was a bit disappointing, but I still really had an awesome time. I did the morning tour—leave at 5am and back at your hotel at 12:30pm—which is more than enough time. You spend about 5 hours in the park on dirt roads bouncing around looking for animals. By noon you are ready to be done. Trust me, you will not miss out since you see lots of animals.
I went to Galle Fort after the safari (thankfully I was able to shower before leaving). The drive there has nice beaches to see along the way. Galle Fort is okay, but if I were to do this again I would I would stay in Unawatuna. Galle Fort is more for the mature set that is interested in galleries and nice restaurants. I walked the fort walls at sunset, which was really beautiful and full of locals, but the town is kind of boring. The hotels and restaurants are expensive and clearly catering to a different traveler than me. Though, I have to say that I had awesome kottu at a small place called Cafe Hula Hula near the ocean part of the fort walls. The Serendipity Cafe has amazing coffee, toast, and hoppers for breakfast.
I did go to Unawatuna for the day. It is only 15 minutes away by bus at a cost of 20Rs (15¢). Tuk tuks will try to charge 300Rs, but just walk out the main gate to the bus station. Bus employees will ask you were you want to go and steer you to the correct bus. The ticket man on the bus will tell you were to get off. Almost anyone along the road will also help you flag down a return bus to Galle Fort. Unawatuna is definitely touristy, but I still enjoyed it. Despite the heavy tourism it was still laid back and, surprisingly, was the only place in Sri Lanka where no one bothered me or asked for money. There is a nice temple at one end of the beach and several restaurants to have a beer at along the beach. The water is clear and turquoise, and the beach has nearly white sand (though in some places there is a bit of trash).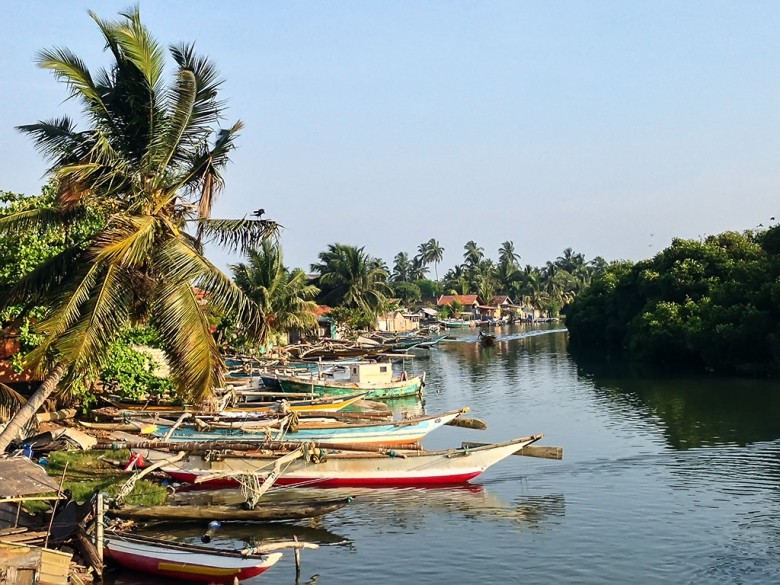 I finally returned to Negombo, a suburb of Colombo close to the airport. Make sure you choose your guesthouse wisely as there are some by the beach and others not by the beach. I was not so lucky in terms of being by the beach, but I was lucky in the that my guesthouse owner was super nice and helpful. A word or caution, most guesthouses in Sri Lanka say they are near certain landmarks and have all kinds of amenities (ensuite bathrooms, air conditioning, hot waters, hot tubs, and so on), but they often aren't close and don't have the amenities listed. They just check all the boxes when posting to a website, so double-check before paying. The average price for a room I paid was about 2,500-3,000Rs (about $20-25), though in some places it was higher.
In the end, I really enjoyed Sri Lanka and now that I have a better feel for it, when I go back I will be able to navigate it a bit better. Expect to see some more posts about the specific things I did while there.