Kandy is supposed to be one of those amazing cities that will alter your life. It's nice and definitely a wonderful place to visit; not sure about it being life altering though. Of course, you really can't take a trip to Sri Lanka and not visit Kandy. I did the next worst thing, though, and did not go to the Temple of the Tooth—the primary attraction of Kandy. I was even staying near the temple, so no excuse other than I was constantly running around on tours to see the sights.
I took a train to Kandy using Expo Rail. It is a private car attached to a regular train (I think—I really couldn't tell). The price was about $11 instead of $2, but trust me when I say it is worth it. Using the regular train means possibly standing the entire time and being constantly jostled. The Expo Rail car is nicer and more comfortable, though the rails are still not so great so the ride is bumpy. They also have a fascination with the air conditioning, so be prepared for it to get cold.
Tour of Kandy & Three Temples Loop
When I arrived in Kandy I did a half day tour in a tuk tuk that cost about 2500Rs (about $19). Nearly everyone quoted me the same price. The tour included the botanical gardens, herb garden, tea plantation and factory, and three temples. The traveling around is a bit long and very dusty. Make sure you have water, though your driver can stop at a store if you need.
I can honestly say that you can skip the herb garden. It is a government owned garden that is designed to help tourists understand traditional Ayurveda medicine. While mildly interesting if you have never seen these herbs, there is very little so see or do. The entry is free but a tip is expected (of course) by the person that walks you around and explains things.
If you have seen a botanical garden before, then there is very little need to visit the one in Kandy. It is really nice, though there is nothing that particular stood out for me other than the giant bats flying around the trees. Turns out that can been seen everywhere. The entry is 1100Rs (about $8.50). I suggest walking around in the morning or afternoon as the sun gets rather strong during the day.
The tea plantation was interesting mostly because I had never seen tea before. Sadly, poor old women run up to you to and drag you over to the tea plants to show you how they pick them. They do this for five seconds then ask for money. If you make the mistake of give them some like I did, a throng of women will show up asking for money. My tuk tuk driver literally had to fend off the women so I could get back into the tuk tuk. It was crazy. I found that the tea plantations around Nuawa Eliya where much nicer, and larger (and you are not accosted by women). The tea factory itself was rather interesting. The free tour is rather short, but if you have never seen how tea is made before it can be kind of cool. You can do that in Nuwara Eliya too.
Now we get to the good part: the three temples loop. I really enjoyed this and if you have a thing for temples you will too. Personally, I would skip all of the other stuff above and just do these three temples (and the Temple of Tooth, of course). Each temple has an entry fee, anywhere between 200 and 300Rs (about $1.50 to $2.25). This is paid to someone who gives you a ticket. That someone then usually tries to show you around for a tip, though not always (okay, yeah, always—they want a tip).
Embekke Devale Temple
This is a Hindu and Buddhist temple mix that is famous for its intricately carved wood pillars. The carvings include dancers, warriors, elephants, lions, peacocks, flowers, and mythical creatures. While not as interesting on the outside as the other temples, the wood carvings are really cool.
Lankathilaka Temple
I found the exterior of this temple to be reminiscent of a Tibet, Nepal, or Bhutan temple (though I have never been to any of those places…yet). Lankathilaka is a World Heritage site and quite beautiful perched on the hilltop as it is. I met an interesting older German couple that visits every year, sometimes a couple times a year. They stay there and just love the place. There are two ways to get to this temple. One, the driver can take you around and you walk in; or, two, the driver takes you to the base and you walk up a millions steps. Guess which way I had to go?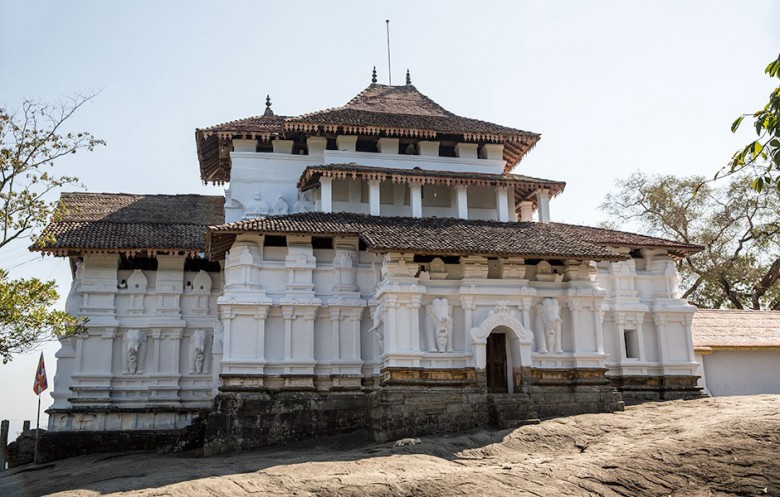 Gadaladeniya Temple
Gadaladeniya is a really beautiful temple that has prayer flags, beautiful fresco-like paintings, and fascinating wood work. It's an ancient monastery situated on a big, flat boulder. I met the conservator there (at least that is what he said he was) and he told me a bit about the place. Didn't ask for any money, but he did try to sell his artwork which was quite beautiful.