The last time I was in Siem Reap, Cambodia I met some really great guys from Australia. We had a blast together. So when they said they were coming back to Siem Reap I had to go meet them. Siem Reap is not far from Bangkok by bus, though the journey can be a bit long with a few nuisances along the way. Nothing I haven't dealt with before.
I've been to Cambodia many times and so have my friends, so were able to avoid most of the touristy stuff. We had all been to the Angkor temples before. We'd seen most of the museums. This time we just hung out it the small city center drinking and eating. There's nothing wrong with that once in a while, though we finally started itching to do something a little more. We tried the War Museum, but that is depressing and taking only an hour.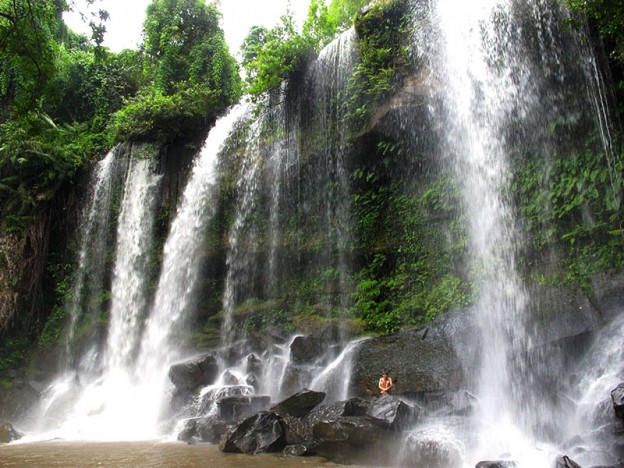 Instead, we decided to take a day trip to Phnom Kulen National Park. Phnom Kulen is about 50 kilometers from Siem Reap, out in the jungle up a winding dirt road that goes one direction in the morning and the other direction in the afternoon. It takes about two hours to get to, despite the relatively short distance. Since there were five of use, we just got a minivan for the day. That was $55 and the entrance fee is $15 if you buy from a travel agency, $20 if you buy when you get there.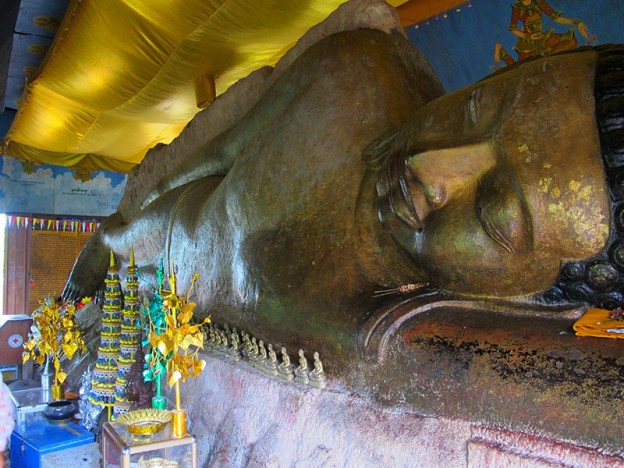 Wat Preah Ang Thom, a Buddhist temple with a reclining Buddha, was the first stop. There are hundreds of steps to climb to get to it, of course. The temple is relatively small, though it was pretty busy. Mostly locals visit; there are few foreigners. The temple dates from the 16th century as was actually Hindu before the Buddhists took it over. You can still see many Hindu carvings, mostly Vishnu (the elephant).
Nearby the temple is Phnom Kulen Waterfall. There is a small falls at the top with water flowing over flat rocks that you can walk on before it finally tumbles down the main waterfall. To get the that you have to climb down wooden stairs that are broken and missing several steps. It's a bit dangerous, as are the slippery boulders you have to climb around to get to the actual falls. Once there, the effort is worth it. You can go swimming and climb the rocks at the base of the falls. The water has "massage fish" in it, the same fish that nibble on your feet you see in tanks outside massage parlors in SE Asia.
Because we finished with the falls sooner than anticipated and we couldn't head back down until after noon, we decided to see the 1000 Lingas. There are carvings of phallic symbols known as linga that cover the bottom of the Siem Reap River. It's believed they bless the river before it reaches the Angkor temples.
While Phnom Kulen isn't an life-changing destination, it is a nice place to visit if you want to get away from the tourist hordes and just have a relaxing day trip. You'll mostly encounter locals and the surrounding area is quite beautiful. There were hundreds of butterflies everywhere. The place was very relaxing and enjoyable.