Phraya Nakhon Cave is a beautiful temple located in Prachuap Khiri Khan Province, one of my favorite province names (it means right time for the mountains). The slogan of the province is City of pure gold, delectable coconuts and pineapples, delightful beaches, mountain and caves, land of spiritual beauty. It is all those things and more. Most people are either driving through this slender province to head south to Thailand's famous beaches or north back up to Bangkok. They miss this wonderful province and all it has to offer.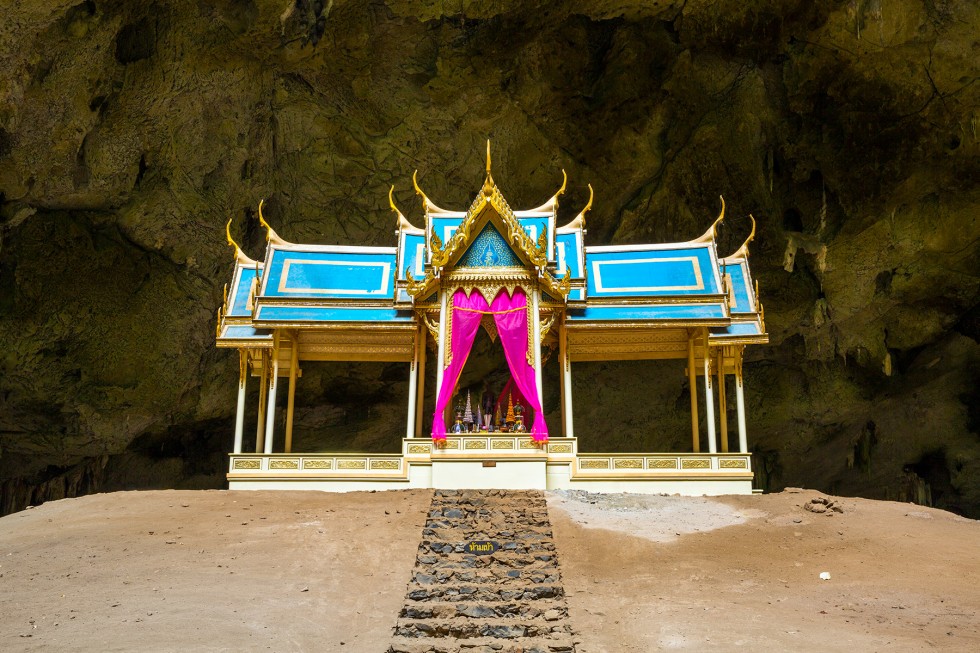 Phraya Nakhon Cave is part of Khao Sam Roi Yot National Park in the Sam Roi Yot District. Located in Tenasserim Hills, just getting to getting to the entrance of Phraya Nakhon Cave requires either a boat ride or a hike over a rocky path at the base of the hills. Opt for the boat ride. Trust me on this. To get to the actual cave itself requires a hike over a rocky and steep path. If you do the first hike, you are not in the mood for the second (unless you are in good physical shape and not wearing sandals).
I managed both hikes, but I was certain it would kill me. Especially since I had been hiking to Erawan Falls the previous day, which is not exactly an leisurely with twenty pounds of camera equipment and a tripod. On top of the grueling hike, it rained on the way up, making the rocky path rather slippery.
The effort is worth it, though. Getting the temple in the right light requires timing it well. I did not time it so well, assuming that it would take me much less time than it actually did to reach the temple. I still managed some decent photos, but getting there early in the day is better. For one thing, there are few people. The temple is mostly visited by Thai, with a few foreigners, and it gets rather busy with visitors. The Thai people are considerate and try to keep out of you photos, but it is difficult with so many people. (Though, it should be mentioned, one Thai guy was pushing me in the back. I finally let him pass—either that, or he was going to experience one pissed off American that does not like getting pushed along slippery, rocky paths.) The other reason to arrive early is that you get the angle of light on the temple beautifully.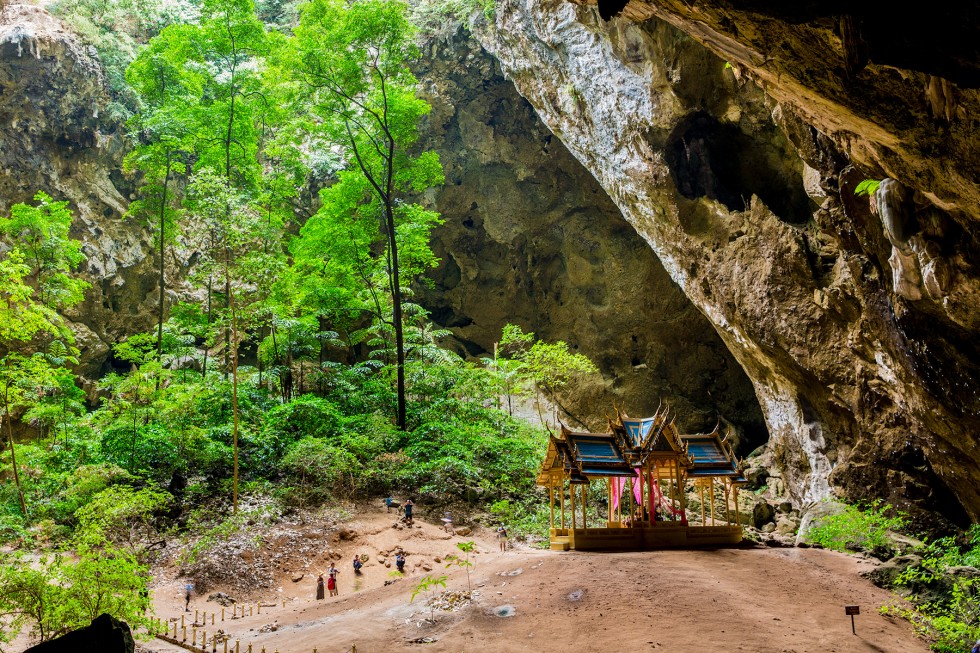 When I arrived the light was steaming straight down and was not as picturesque as some photos. The cave is moist, as caves often are, so there is mist in the air. Better to get that earlier in the day. Late afternoon might work well too, but I am not as certain since the hills might block the light.
The surrounding area is quite nice too. I had a car so I was able to stop along the road. Tour buses and minivans will not stop, but at least you can view the pretty scenery from outside your window.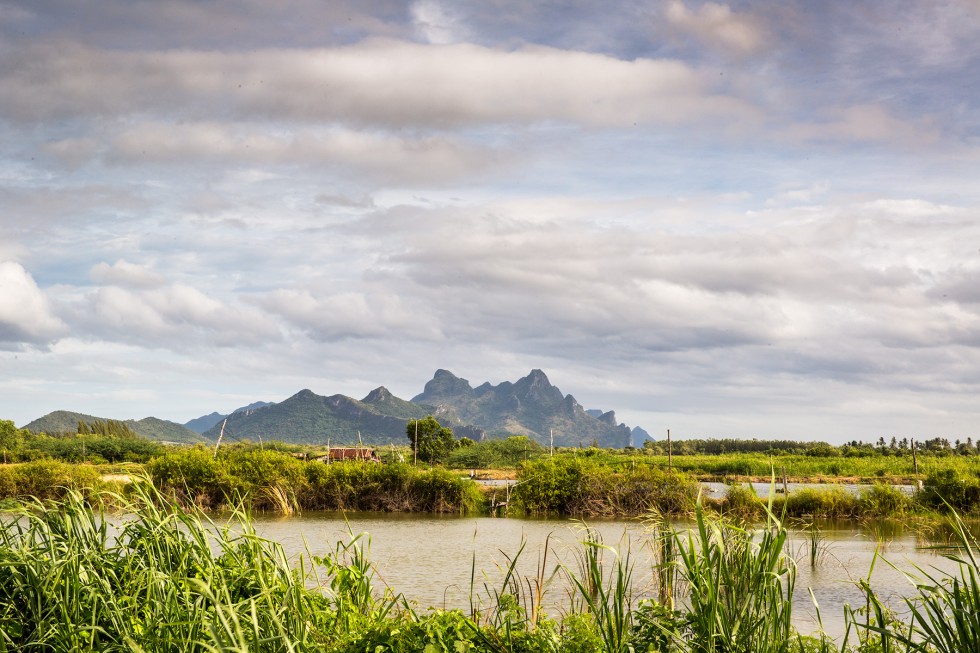 There is no cost to enter the park. Make sure you wear good shoes and have water with you. Be careful on the way up and down as the rocks can get slippery when wet. There is no guard rail and the trail is steep. If you are in okay shape, you should be able to make it without any problem. Just take your time like I did. You miss nothing by taking the boat to the cave entrance instead of doing the hike along the base of the hills, but the boats do not come to a pier so be prepared to get your feet wet. Round trip boat fare is about 200 baht.